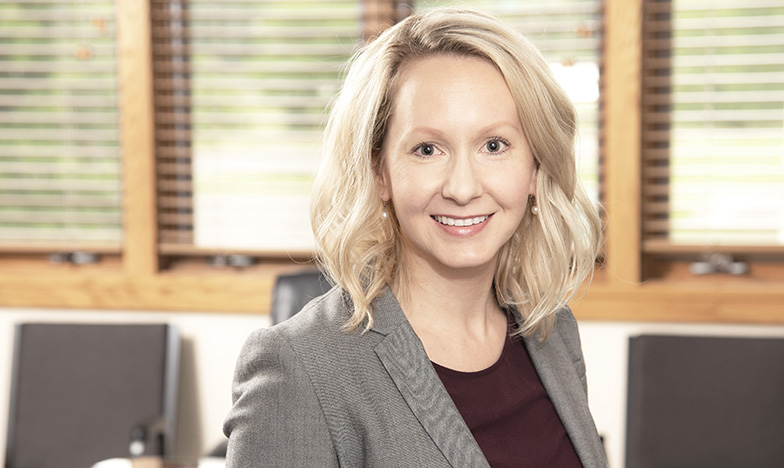 Attorney Lindsey S.M. Minser
in Eau Claire, Menomonie, Black River Falls, and Wausau
In her Family Law practice, Lindsey helps clients through life-changing events such as divorce, child custody and placement disputes, termination of parental rights, and adoption. She also provides Mediation and Guardian ad Litem services.
Prior to joining Weld Riley, Lindsey practiced Family Law in Western Wisconsin counties near the Twin Cities. Before focusing her practice on Family Law, Lindsey practiced as an Assistant State Public Defender in St. Paul, MN and as an Assistant District Attorney in Monroe County, WI. As an Assistant District Attorney, she prosecuted a broad range of felony, misdemeanor, and juvenile cases with a special focus on Domestic Violence crimes and served as a staff member of the Operating While Intoxicated Treatment Court and the Coordinated Community Response to Intimate Partner Violence.
Lindsey is a graduate of UW – Eau Claire with a Bachelor of Arts degree in Biology and Art & Design Education. She received her law degree from the University of Wisconsin Law School. While in Law School she worked for the Wisconsin Innocence Project and the Restorative Justice Project. She also worked as a law clerk for the Southern Poverty Law Center in New Orleans, LA on their School to Prison Reform Project.
Lindsey is licensed in Wisconsin and Minnesota, and a member of the Eau Claire County Bar Association, Wisconsin State Bar Association, and the American Bar Association. She also serves on the Advisory Board for the Women's Business Conference.
In her spare time, Lindsey enjoys running, camping, painting, and spending time with her husband, two daughters, and their two dogs.
One of the largest firms in the region with offices in Eau Claire, Menomonie, Black River Falls, and Wausau, Weld Riley is ideally suited to provide the assistance you need. Contact us for a consultation today!
SPECIALTIES
Education
University of Wisconsin, Eau Claire
University of Wisconsin, Madison

Awards & Association
St. Croix Valley Bar Association
Wisconsin State Bar Association