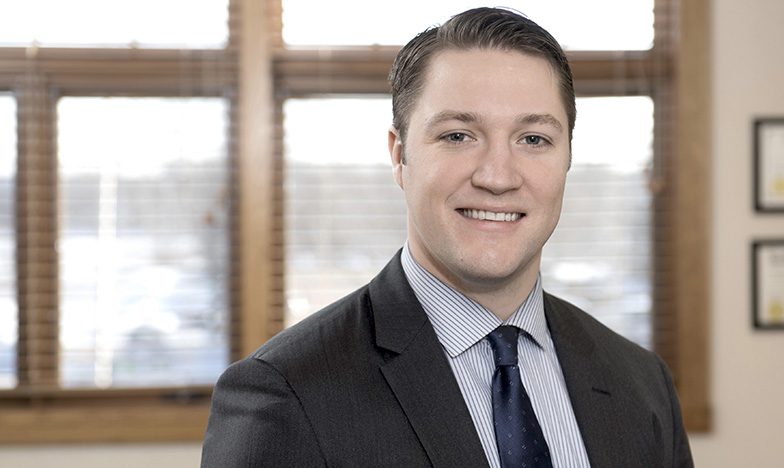 Attorney Ryan J. Moertel
in Eau Claire, Menomonie, Black River Falls, and Wausau
Ryan specializes in criminal defense and civil litigation, and wants nothing more than to be in a court room litigating issues and arguing to juries on behalf of his clients.
Ryan joined Weld Riley, S.C. in 2017, after practicing criminal defense throughout the Chippewa Valley with a smaller firm in Eau Claire. That experience allowed him to develop a passion for defending the rights of the Valley's citizens. During that time, Ryan successfully represented over one hundred clients accused of offenses ranging from simple ordinance violations to traffic related crimes like operating while intoxicated charges, and more serious felonies such as illegal narcotic related crimes and sexual assaults. Throughout this practice, he was able to find success by effectively negotiating with prosecutors to find fair resolutions, winning motions that resulted in the dismissal of cases, and fully litigating multiple jury trials that resulted in acquittals for his clients.
He is a member of the American Bar Association, Wisconsin Bar Association, Eau Claire County Bar Association, Young Professionals of the Chippewa Valley, the National Association of Criminal Defense Lawyers (NACDL) as well as the Wisconsin Association of Criminal Defense Lawyers (WACDL) and Wisconsin Pro Bono Honor Society.
Ryan completed his undergraduate degree at the University of Wisconsin – Eau Claire where he also served as Team Captain of the UW-Eau Claire Football Team for two seasons. He continued his education at the University of Wisconsin Law School in Madison where he was part of the school's prestigious Mock Trial Team and graduated with Cum Laude Honors. While obtaining his law degree, Ryan also interned at the St. Croix County District Attorney's Office and participated in the Judicial Internship Program at the Dane County Courthouse during his final semester.
Away from work, Ryan loves to spend time with his dog "Jack" when he is not playing music on his acoustic guitar or outside enjoying a round of golf.
One of the largest firms in the region with offices in Eau Claire, Menomonie, Black River Falls, and Wausau, Weld Riley is ideally suited to provide the assistance you need. Contact us for a consultation today!
SPECIALTIES
Education
University of Wisconsin-Eau Claire
University of Wisconsin Law School
Awards and Associations
American Bar Association
Wisconsin Bar Association
Eau Claire County Bar Association
National Association of Criminal Defense Lawyers
Wisconsin Association of Criminal Defense Lawyers
Wisconsin Pro Bono Honor Society
Young Professionals of the Chippewa Valley