Attorney Jerilyn Jacobs Joins Weld Riley, S.C.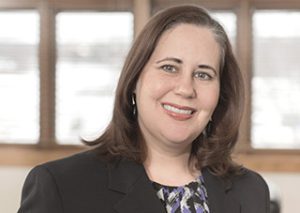 The law firm of Weld Riley, S.C. is pleased to announce Attorney Jerilyn Jacobs has joined the firm as a shareholder.
Commenting on Jerilyn joining the firm, Weld Riley President Steve Weld expressed, "We are excited to have Jerilyn join our firm's Labor and Employment Section. Her experience in this area will broaden our foundation and enhance our services."
Prior to joining Weld Riley, S.C., Jerilyn practiced in the Milwaukee area for almost two decades. She specializes in litigation on behalf of employers in employment and labor-related matters, including claims of discrimination, harassment, wrongful termination, non-competition, and violations of collective bargaining agreements. She defends employers before the Wisconsin Department of Workforce Development, the Equal Employment Opportunity Commission, in Wisconsin state court, and in federal courts in multiple jurisdictions within the Seventh Circuit. She also defends plan administrators, insurers, and employers in ERISA federal court litigation.
Jerilyn received her Bachelor of Arts degree from the University of Southern California in 1992, where she majored in English and Journalism and minored in Political Science.  She was a staff writer for The Daily Trojan. She earned her juris doctorate from Cornell Law School in 1998, where she served as Note Editor of the Journal of Law and Public Policy.
The Weld Riley, S.C. Law Firm was formed in 1991 and is comprised of Litigation, Labor and Employment, Business, Estate Planning, Real Estate, and Government Relations Sections.  The firm employs 78 people in its Eau Claire, Menomonie and Black River Falls offices.