CAREERS AT WELD RILEY
At Weld Riley, we are a group of individuals working as a team with passion and purpose. If you are motivated and hard-working and think you'd be a good addition to this powerful firm, use this site to familiarize yourself with our practice and people. Then contact us to start a conversation.
The firm seeks general business and corporate transactional, employment, real estate, and/or estate planning attorneys to provide services in these areas. The firm also seeks an experienced attorney to join its litigation section. Specific positions include:
1. General Corporate and Business attorney to assist public and private sector clients in all general business matters, including organization and management matters, contracts, mergers and acquisitions.
2. Real Estate attorney to assist clients in all aspects of general real estate sales, purchases, offers to purchases, easements, rental agreements and other transactions related to real estate.
3. Estate Planning attorney to assist clients in identifying their personal estate planning goals and prepare the necessary documents as well as provide probate services.
4. Intellectual Property attorney to assist clients in intellectual property, trademark and patent matters. Experience with and a willingness to provide general corporate and business advice to public and private sector entities is desired.
5. Employment and Labor attorney to advise and represent employers in a wide variety of labor and employment matters including employee handbooks, employment contracts, collective bargaining, unemployment compensation claims, unfair labor practice complaints, grievance and interest arbitrations, and discrimination, FMLA, OSHA and wage and hour charges.
6. Litigation attorney to represent individuals, businesses, corporations, insurance companies, and municipalities in civil actions and administrative proceedings.
Besides the ability to work in a beautiful part of the state which is a short distance from the Twin Cities, Weld Riley offers excellent support, facilities, benefits, and opportunities for growth. Interested applicants, with a minimum of two (2) years of experience, should specify position of interest and send letter, resume and law school transcript to Attorney John Robert Behling, President, Weld Riley, S.C.; P.O. Box 1030; Eau Claire, WI 54702-1030; email: [email protected]. All inquiries and responses will be kept confidential.
Life in the Eau Claire area
With a population of 66,000, Eau Claire is a perfect mix of urban and rural life. Located in the heart of West Central Wisconsin near picturesque rivers, lakes, and other natural attractions, Eau Claire is a vibrant city rich in arts and culture just 90 miles east of Minneapolis/St. Paul.
Recognized by Forbes as one of the Best Small Places for Business and Careers, Eau Claire is a bustling center for retail, education, recreation, medicine, and research. Located in the heart of the I-94 Corridor Technology Zone, the region is also home to many international hi-tech corporations. When it comes to education, the University of Wisconsin-Eau Claire consistently ranks as one of the Midwest's top public institutions for its academics, athletics, and active community.
In 2014, Eau Claire was named an "All-America City" by the National Civic League. This prestigious award recognizes just ten U.S. communities each year for their innovation and leadership in tackling important issues in their area.
In addition to being known for its culture, education, and outstanding economic growth, Eau Claire was named by the AARP as one of the best places to retire.
Transparency in Coverage: UnitedHealthcare creates and publishes the machine-readable files on behalf of Weld Riley, S.C. To access the machine-readable files, please click here.
---
Now Hiring | Legal Assistant/Paralegal – 8/15/2023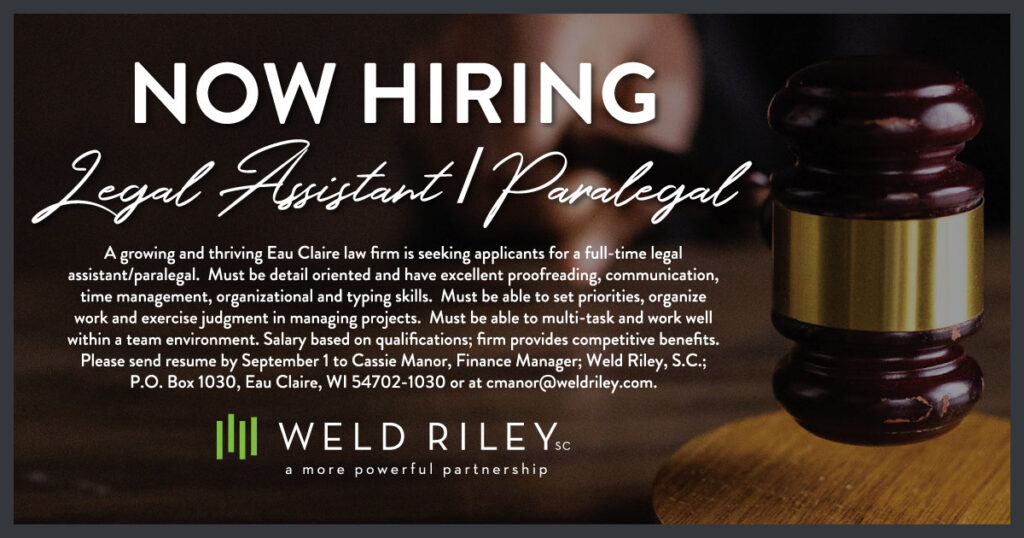 A growing and thriving Eau Claire law firm is seeking applicants for a full-time legal assistant/paralegal.  Must be detail oriented and have excellent proofreading, communication, time management, organizational and typing skills.  Must be able to set priorities, organize work and exercise judgment in managing projects.  Must be able to multi-task and work well within a team environment. Salary based on qualifications; firm provides competitive benefits.
Please send resume by September 1st to Cassie Manor, Finance Manager; Weld Riley, S.C.; P.O. Box 1030, Eau Claire, WI 54702-1030 or at [email protected].
The perfect balance of smart, sophisticated, and approachable. Our depth of knowledge and breadth of experience sets us apart.

We are a group of individuals working as a team with passion and purpose.