Attorney Jennifer N. Brown Joins Weld Riley's Divorce and Family Law section!
Weld Riley is proud to welcome Attorney Jennifer N. Brown into our Divorce and Family Law section!
Jennifer brings a well-versed background to the Weld Riley team. She received her undergraduate degree from the University of Wisconsin, a Master of Science from Washington University in St. Louis, and her Law degree from DePaul University College of Law in Chicago.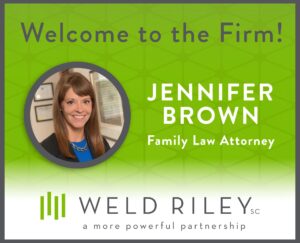 "We are so glad to add an experienced lawyer like Jennifer to our team," said Weld Riley President John Robert Behling. "She has knowledge in many areas to help her clients fully solve their family law needs."
Throughout Jennifer's years of experience, she has had 4 publications and presented at 10 different universities or associations, 4 of which were on Family Law. Jennifer has a large involvement within her community as a board member and volunteer in multiple associations.
Jennifer previously served as a partner at another western Wisconsin firm where she practiced in all areas of Divorce and Family Law matters.
"I am really looking forward to being part of such a big and diverse firm and to learn from the team here at Weld Riley," said Jennifer Brown.
Welcome Jennifer!