Former Intern Jessah Schnack Joins the Firm Full-Time
We are excited to welcome Jessah Schnack as a full-time member of our Weld Riley, S.C. team!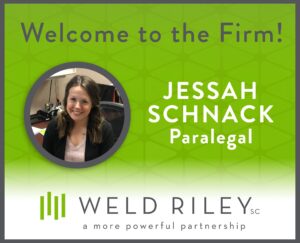 Previously, Jessah was a CVTC intern with our office working as her schedule allowed. She has done a fantastic job interacting with clients and other team members. Jessah currently works in our Litigation Section assisting Attorney Brian Braziel.
Weld Riley President, John Robert Behling, enjoys working with the interns in the paralegal
program at CVTC as they are ready to start day one focused and eager to learn.
We are elated to have you on our team, Jessah!