Maggie M. McLoone Joins Weld Riley S.C. as a Law Clerk
The law firm of Weld Riley, S.C. is pleased to announce Maggie M. McLoone has joined the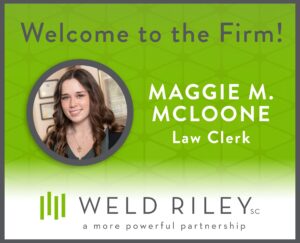 firm as a summer law clerk.
"The Weld Riley team is excited to have Maggie with us for the summer," said Weld Riley President John Robert Behling. "We are very fortunate to have someone with Maggie's background and skillset join us for the summer. During her tenure at the firm, Maggie will work in all areas of the practice of law."
Maggie is currently attending Marquette University School of Law and will graduate in 2022. At Marquette, Maggie is the co-founder and treasurer for the Muslim Law Student Association. She is also the treasurer for the Children and Family Law Society. Maggie is from the City of Stanley and her hobbies include reading and spending time with her niece and her pets.
"I am enthusiastic about being back in Northwestern Wisconsin for the summer gaining real life experience with the great legal team at Weld Riley," said Maggie M. McLoone.