Newly Licensed Attorney Justin Andrews Ready to Serve His Community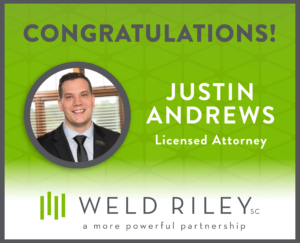 The law firm of Weld Riley, S.C. is pleased to announce Justin Andrews passed the BAR exam and is a licensed attorney prepared to serve Weld Riley clients. He joined the firm in June after receiving his Law degree from the Mitchell Hamline School of Law in St. Paul in May.
"These first few months at Weld Riley have really been a great experience so far. The attorneys, legal assistants, and support staff have all been very kind, welcoming, and supportive as I begin my legal career. The work has been challenging and rewarding, and I'm grateful for the opportunity and guidance they've provided so far," said Justin Andrews.
Justin grew up in Boyceville, Wisconsin attending both Chippewa Valley Technical College and the University of Wisconsin – Stout for undergraduate degrees.
"Justin's rural farm background and work ethic makes him a natural fit for our firm and the practice of law. He is a tremendous young lawyer who will serve his clients very well," said Weld Riley President, John Robert Behling. "We are pleased to share the good news with our colleagues, friends and clients!"
Justin is an advocate of giving back to his community. "Three years (and one bar exam) later, I finally get the opportunity to take what I've learned and use that to help improve my community in whichever way I can," Justin said.
Weld Riley, S.C. was founded in 1991. The firm consists of lawyers across four offices (Eau Claire, Menomonie, Wausau and Black River Falls) and offers a full range of legal services, including labor and employment, business law, estate planning, municipal law, mining and mineral rights, environmental law, banking and creditor rights, civil litigation, criminal defense, and family law.