Recognized Attorney Joins Weld Riley's Esteemed Legal Team
Dean Dietrich is a shareholder and a member of the firm's labor and employment section. His practice includes school law, municipal law, labor relations, employment law, and professional responsibility matters. Dean has over four decades of experience practicing law and has statewide recognition.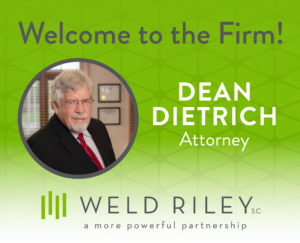 In his practice, Dean has vast experience representing public and private sector employers in the various aspects of employment law and labor relations. Dean also has years of experience representing employers in collective bargaining and proceedings before state and federal administrative agencies. Dean represents school districts and local government units in all aspects of municipal law and compliance with state statutes.
Dean has also been a leader for more than 30 years in professional responsibility and ethics matters. Dean serves on the State Bar of Wisconsin's Committee on Professional Ethics (he currently serves as Vice Chair) and is a member of the Association of Professional Responsibility Lawyers. He has represented attorneys from throughout Wisconsin in proceedings before the Supreme Court of Wisconsin and the Office of Lawyer Regulation. He is called upon by other attorneys and law firms to provide expert opinions on professional responsibility matters as well. In addition, he has a monthly article in the Wisconsin Lawyer magazine.
Volunteer work also has important meaning for Dean from both a personal and professional perspective. In recognition of his volunteer work both locally and statewide, he was recently awarded with the Charles L. Goldberg Distinguished Service Award. This is the highest award given by the Wisconsin State Bar and was done in recognition, and as a thank you, for Dean's lifetime of service to the legal profession and community.
Dean earned his bachelor's and Juris Doctorate degrees from Marquette University.
One of the largest firms in the region with offices in Eau Claire, Menomonie, Black River Falls, and Wausau, Weld Riley is ideally suited to provide the assistance you need. Contact us for a consultation today!