Town Attorneys for Town of Lafayette
Weld Riley, S.C. is proud to have been unanimously appointed by the Town of Lafayette to serve as the Town Attorney!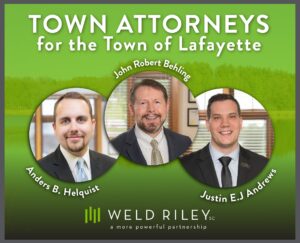 Our firm, including attorneys Anders Helquist, John Behling, and Justin Andrews, serves a wide range of municipalities throughout western Wisconsin. From zoning and public record requests to employment matters and civil litigation, we have the skills and knowledge to meet your needs.
Contact Weld Riley if you are a Township, Village, or City in need of legal assistance.
715.839.7786