Weld Riley Welcomes Intern Bridget McDaniel From The CVTC Paralegal Program
We would like to welcome our new intern Bridget McDaniel who joins us from the Chippewa Valley Technical College Paralegal Program. Bridget attended the University of Wisconsin- Eau Claire, receiving her Bachelor of Arts in Criminal Justice and is expected to graduate the CVTC Paralegal Program in May of 2021.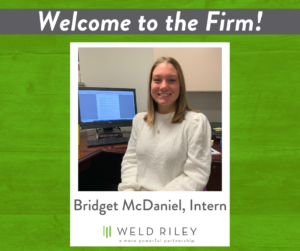 CVTC Legal Studies/Paralegal Program students enroll in an internship course which relies on law offices in the Chippewa Valley to agree to work with our students, providing them with their first experience working in a law office.
"I know our students have thoroughly enjoyed their internship opportunities at Weld Riley and are thankful for an experience which better prepares them for their paralegal careers," said Paralegal Program Director Mark B. Barker.
As an intern Bridget will be performing a variety of administrative and legal duties at Weld Riley, including drafting correspondence and pleadings as well as coordinating appointments and hearing dates with clients, attorneys, and the court system.
"We prize our long-standing partnership with CVTC in guiding the next generation of lawyers and paralegals. Our previous CVTC interns have done a fantastic job and often join our firm full time as legal assistants after graduation," said Weld Riley President John Robert Behling.