Weld Riley Welcomes Intern Courtney Rauch From The CVTC Paralegal Program
We are happy to welcome our new intern Courtney Rauch who comes to us from the Chippewa Valley Technical College Paralegal Program. Courtney started the Paralegal Program at CVTC in August of 2020.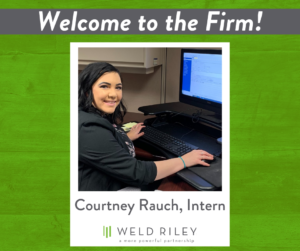 Each semester CVTC Legal Studies/Paralegal Program students enroll in the internship course which is a capstone course to their legal studies. In this course law offices in the Chippewa Valley agree to work with our students, providing them with their first experience working in a law office.
"Weld Riley is honored to play a part in growing our industry by nurturing and guiding the next generation of lawyers and paralegals," said Weld Riley President John Robert Behling.
As an intern, Courtney will be performing a variety of administrative and legal duties at Weld Riley, including drafting correspondence and pleadings as well as coordinating appointments and hearing dates with clients, attorneys, and the court system.
"I would like to thank John Behling and all the attorneys at Weld Riley for their willingness to partner with our Program, allowing our students to work alongside Weld Riley staff and attorneys, where students gain real-world legal knowledge that we cannot provide in the classroom," said Paralegal Program Director Mark B. Barker.