Weld Riley's Newest Legal Assistants
We are happy to introduce Jessah and Nadia, Weld Riley's newest legal assistants who are currently enrolled in the Chippewa Valley Technical College Paralegal Program!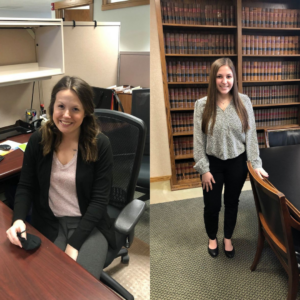 As legal assistants, Jessah and Nadia will be performing a variety of administrative and legal duties at Weld Riley, including drafting correspondence and pleadings as well as coordinating appointments and hearing dates with clients, attorneys, and the court system.
"Weld Riley is honored that we can play a part in growing and nurturing the next generation of lawyers and paralegals. We really prize our long-term relationship with CVTC, and working with students is both rewarding and good business," said Weld Riley President John Robert Behling.
"The CVTC Paralegal Program greatly appreciates the attorneys at Weld Riley for their willingness to work with our students as interns and to provide our students with their first professional opportunity to work in a law office.
Program instructors can cover legal concepts and paralegal duties, but it the real-world experience working with Weld Riley attorneys that completes their education and better prepares them for their paralegal careers," said Paralegal Program Director Mark B. Barker.
Welcome, Jessah and Nadia to the Weld Riley team!
Weld Riley, S.C. was founded in 1991. The firm consists of lawyers across four offices (Eau Claire, Menomonie, Wausau and Black River Falls) and offers a full range of legal services, including labor and employment, business law, estate planning, tax representation, municipal law, mining and mineral rights, environmental law, banking and creditor rights, civil litigation, criminal defense, immigration, and family law.