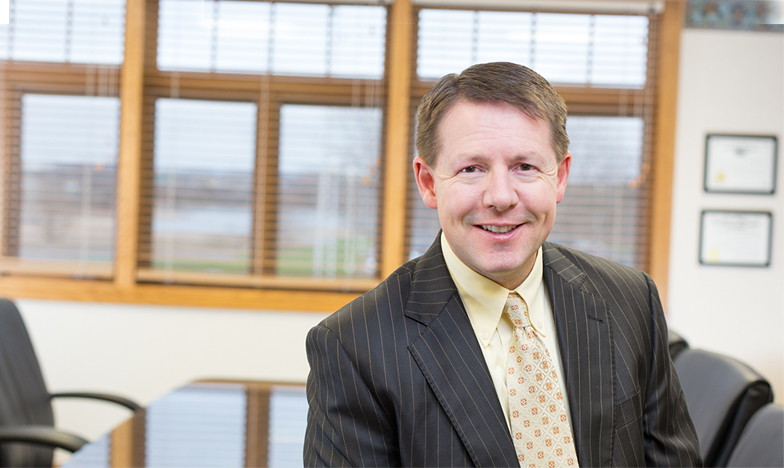 Attorney John Robert Behling
in Eau Claire, Menomonie, Black River Falls, and Wausau
John is known throughout the state for his expertise in regulatory, environmental, zoning, permitting and public relations efforts on behalf of his clients. John practices in the areas of Frac Sand, Mining and Minerals, Government Relations and Administrative, Cooperative, Municipal & Environmental law. At the firm, he also serves as the Vice President.
John is "results oriented" and recently represented an oil and gas company in brokering an agreement with the Town of Howard in Chippewa County on a Non-Metallic ("Frac Sand") Mining Agreement. This Agreement is now known statewide and has become the standard for companies and municipalities alike. John has a proven track record of introducing international and local entrepreneurs to federal, state and local leaders. These introductions allow his clients to gain a foothold and collaborate directly with these leaders.
John's clients list reads like a "Who's Who" in that it includes multiple Fortune 100 and international companies. He represents EOG Resources, Inc., as well as the Menards corporation. He is also local counsel for administrative and environmental projects for Timberland, Smart Sand, Kraemer Mining & Materials, Source Energy and many other companies. John works with corporate managers and public figures in both personal and professional matters. He also provides advice to local government leaders for numerous municipalities.
John is a member of the American Bar Association, Wisconsin Bar Association, and Eau Claire County Bar Association. John also serves a position on the Wisconsin Board of Regents. He was appointed by Governor Scott Walker and unanimously confirmed by the Wisconsin Senate to a position on the University of Wisconsin Board of Regents. He was also unanimously elected Vice President of the Board of Regents in June, 2015 and 2016 and unanimously elected as President in 2017 and 2018. John is the first Board of Regents President ever elected from the Chippewa Valley.
Prior to joining the firm, John was an aide to Governor Tommy Thompson in both Wisconsin and Washington. While in the Thompson administration, John was the Governor's policy advisor on labor, employment and regulatory issues. John was appointed to serve in the office of the Secretary at the Department of Commerce. In that role, John assisted businesses working to expand or relocate in Wisconsin.
John is a graduate of the University of Wisconsin with a bachelor of science in political science and economics. He also attended Georgetown University of Economics and received his law degree from the University of Wisconsin Law School.
One of the largest firms in the region with offices in Eau Claire, Menomonie, Black River Falls, and Wausau, Weld Riley is ideally suited to provide the assistance you need. Contact us for a consultation today!
Education
University of Wisconsin
Georgetown University of Economics
University of Wisconsin Law School
Awards and Associations
American Bar Association
Wisconsin Bar Association
Eau Claire County Bar Association
Wisconsin Board of Regents
Rising Star in Administrative Law